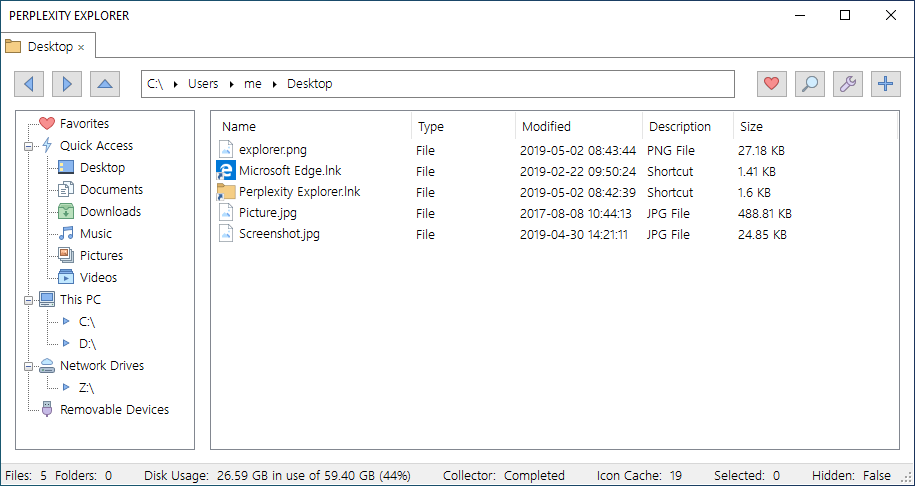 STORY
Perplexity Explorer is a very simple to use and clean Windows Explorer replacement. Perplexity Explorer was created with a philosophy that it could replace Windows Explorer with extra features that would complement the experience.
The history began when a question was asked in February 2017 by an intern how easy it could be to create a tabbed Explorer. After a month a prototype was born with the engine name ENGINE1. We continued this quest and built the explorer on what my intern and me at the time called ENGINE2. This was a faster and better engine than the prototype phase and we loved it but the code was not clean for me to edit and change. You can still download the end result of ENGINE2 as 'Legacy' version in the Downloads section.
Learning from those experiences I did a bold move. I started with a complete rewrite of the explorer. Almost nothing got the transition over to the new explorer. Features that were never used got removed and a lot of parts of the engine rewritten for stability and performance. Now this is still not perfect and I do not think it will ever be but it is good enough. I am not a programmer to say the least and do this kind of thing out of love and hobby. So feel free to try it and I hope you like it as much as I do.
FEATURES
Tabbed file explorer
Compression and decompression of ZIP files
Dual Search Engine (ENGINE3 and Windows Indexer)
Favorites system to store frequently visited places as you wish
Removable devices are supported
Network drives are supported
Directory size calculation
Icon Packs if you wish to change the look of the explorer
Easy to use and clear graphical user interface
Dark theme
Update system
Tree view mode
Custom default icon pack with icons from Icons8
Custom Libraries
DOWNLOAD
From here you can download the installer for Perplexity Explorer. The installer can be used to install Perplexity Explorer which currently installs itself at the root of C:\ in it's own little folder. This installer also contains the logic to update Perplexity Explorer when needed and can be used to freshly install without the loss of user files.
CURRENTLY PERPLEXITY EXPLORER IS NOT BEING DEVELOPED MUCH
Please note that I am not a developer by schooling. I am not responsible for any damage caused and you are not allowed to damage or de-compile the program.
The explorer has been written with Windows 10 in mind. It is possible that features are broken or not working correctly on other versions of Windows. Also you are required to run the 64 bit version of Windows.
ICON PACKS
Perplexity Explorer has support for custom Icon Packs. These are a collection of icons that can be installed and used by the user. You are able to customize the explorer experience to the way you like it. By default the icon pack that is used is using icons supplied by Icons8.com however you are able to create your own pack and use that.
DEFAULT 1.0 ICON PACK | EXPLORER 2.0 ICON PACK

PRIVACY
The application is written by me and mainly for me so the people that are currently concerned about their data should not be worried with this application. The only outside connection it currently uses is to check if it's own version is out of date and download the updater if needed. Updates can be disabled in the Options menu. I do not keep any other usage, tracking or any log files on or from your system. This will remain this way for as long as I can hold it off.